Dear Customer,
We wanted to take the time to thank you for your business, as you were great to work with and our business is thriving thanks to customers like you.
We really appreciate your confidence in us and we were hoping to instill that same confidence and experience you had with us in others. Would you mind taking a few minutes to write us a review on our Better Business Bureau(BBB) profile? We are very proud of our BBB accreditation and it would really help our business – I promise it is very quick, easy and safe to do so.
Here is the link;
Thank you so much! Have a great day!
About Baico Publishing
Baico Publishing is a traditional Canadian book publisher offering a simplistic approach to a very complex industry! Providing a gateway to unknown authors to publish their books!
Baico Publishing began operations in 1997 in Gatineau, Quebec but because of growth in its operations, it is now located in Canada's beautiful and picturesque capital, Ottawa.  The founder, Raymond Coderre brings over 40 years of invaluable experience in the printing and book publishing industry with the vision to operate a publishing house that is unique in its services and relationship with its authors.  As such, Baico's signature is its accessibility to its authors as its key players make themselves available to them, addressing any of their questions and concerns, and putting them at ease.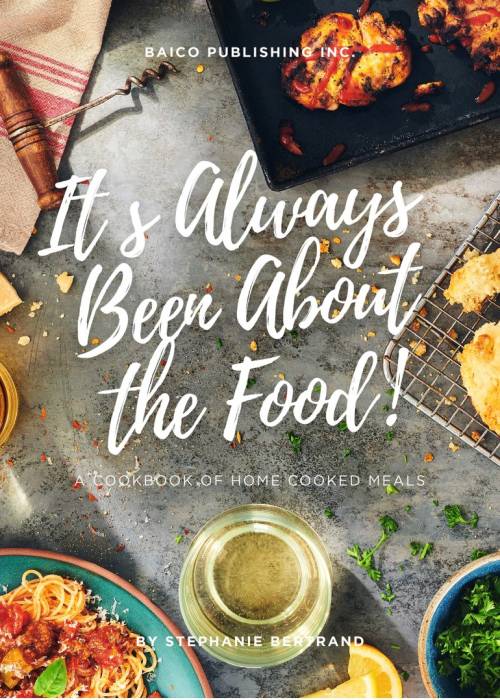 Coming Soon: It's Always Been About The Food
This brand new cookbook is now available for pre-order, and will be shipped at the end of October. Now is your chance to purchase this book ahead of time and ensure that a copy is available upon release.
This gorgeous book offers a quick and easy approach to home cooking. It's rich and vibrant recipes are sure to inspire even the most apprehensive cook. Overflowing with an array of colorful recipes, from healthy soups, salads, to appetizers, and entrees. There's something for everyone. 
Visit the product page and pre-order our copy today!
Media inquiries and review copy requests
Submit your manuscript for an assessment